Digital PR
How To Create A Media Kit [+ Press Kit Examples & Free Template]
Have you ever noticed how some brands are regularly covered by the leading digital and mainstream media companies? Their founders are interviewed by influential publications, their brand story is frequently quoted, and their logos and hi-res product images are everywhere.
All of this doesn't happen by accident.
Among other factors, having a well-designed media kit on your website plays a critical role in helping your brand get priceless media coverage.
Not sure what a media kit looks like? No problem.
In this article, I'll tell you what a media kit is, why it's important, and show you media kit examples from some of the world's top startups so you can create one for your brand.
Let's dive in.
What Is A Media Kit?
A media kit, also called a press kit, is a set of promotional materials and informational content designed for journalists, content creators, PR agencies, and media companies looking to cover your brand in a news story.
It is the official version of your company's story, brand identity, and information that you want journalists, guest bloggers, and news agencies to use when covering your brand.
Media kits have been around for decades, and companies worldwide have used them to make it easier for the press to write about them, and get more PR.
However, modern-day media kits primarily reside on your company's website as a dynamic resource that's constantly updated as your brand evolves.
It includes your brand's introduction, official story, leadership team profiles, brand assets such as logos, banners, and other critical information.
Anyone from the press, media or the content creation industry can find your media kit on your website and use it to write about your brand. That's why media kits are key when trying to secure PR for digital startups.
For example, if an influential publication like Entrepreneur or Fortune writes about the best upcoming email marketing tools and shortlists your company as one of the top choices, they can get all the information they need from your website and media kit.
Why Do You Need A Corporate Media Kit?
Journalists and content creators working for large and influential publications are always on the look for new brands to cover in their stories. But they're extremely busy people who get hundreds of pitches and brand coverage requests every day.
To improve your chances of getting covered by a top media company, you need a media kit that provides them with everything they need to know about your company.
This approach has several benefits.
Provides Journalists An Authentic Information Source
A media kit provides journalists and content creators with the most up-to-date and authentic information about your brand that they can use with confidence. It saves their time by providing them with everything they need to know about your company in a comprehensive information package.
Saves Your Time And Resources
As your brand grows, it gets media coverage requests from journalists and digital publications. Handling these requests individually can eat up a lot of your time and resources. With a media kit, you can manage all such requests easily. In fact, most journalists would simply go to the media kit page on your website to get the necessary information instead of contacting you, saving everyone's time.
Controls The Narrative Around Your Brand
With a media kit, you can control the official version of your brand's story and ensure that your coverage is consistent across platforms and publications. Without one, your brand's description and story are at the mercy of a journalist's imagination. Whatever they write about you becomes the truth because you don't offer an official truth.
Makes Your Media Pitch More Compelling
Media kits also come in handy when pitching your brand to different publications and journalists. Instead of asking them to go to your website and gather information about your brand, you can attach a media kit to your email pitch. This shows that you're a professional brand and makes it easier for the publication to write about you.
How To Make A Media Kit – What's Included?
There's no fixed structure or format to create a media kit, and it's entirely up to your imagination. However, most companies use the following methods to create one.
A dedicated "Media", "Press" or "Newsroom" page on their website that's regularly updated with new information.
A footer section that contains links to your About, Leadership, Press, and other related pages for media.
A compressed downloadable file containing a presentation about your brand along with the other necessary brand assets and information
What's included in a media kit? Let me break it down for you.
1. Company History or About Us
This section contains your company's history, when it was founded, why it was founded, the problems it solves, how it's different, and what it aims to achieve in the long run.
Asana does this perfectly.
Use this section to tell your story with the necessary background information that helps journalists understand your company's vision.
It should also include your company stats and information, including
Office locations
Number of employees
Founding year
Number of customers served
Any other critical stats. For example, a web security tool could say "10 million+ hacking attempts blocked" or anything that shows your company's impact.
2. Company And Leadership Team Images
You don't want journalists to Google your founder's pics or use any random photos from their Facebook or Instagram profiles. So, create a separate section in your media kit that contains the latest professional headshots and corporate photographs of your founders and decision-makers. Also, add a short introduction for each member along with a link to their LinkedIn profiles.
Slack's media kit page is an excellent example.
Similarly, give journalists a look at your company's everyday life through hi-res office images and videos. You can create a dedicated behind-the-scenes video that gives them a sense of what it's like working in your company.
3. Brand's Visual Assets
Share multiple versions of your brand's logos for different backgrounds. For example, a transparent background PNG file, an alternate logo version for dark backgrounds, and a standard white-background version.
For example, ActiveCampaign's media kit contains multiple versions of its logo along with detailed logo guidelines.
Similarly, share any official banners, image quotes, or visuals you want journalists to use when covering your brand.
4. Customer Profiles and Case Studies
Feature the logos of your most prominent customers in this section and highlight case studies that show how your products or services helped your clients.
For example, ConvertKit has a dedicated Customer Success Stories page in its media section containing dozens of case studies.
5. Testimonials
Feature testimonials from clients that describe in concrete terms how your brand helped them. The ideal testimonial format is "problem-solution-results" which shows readers the before-after effect of your company on a client's business.
Visme's "Wall Of Love" is an excellent example.
6. CSR Initiatives & Partnerships
If your brand is involved in charity work, has any notable CSR initiatives, or works with NGOs for various community projects, make it a part of your media kit along with images and details of your activities and the vision behind them.
For example, TOMS, a renowned footwear company, has a dedicated section that highlights its CSR initiatives.
7. Official Media Contact
Provide a dedicated email address journalists can use to request any additional information about your company.
For example, Pipedrive provides press contacts for each location they operate it, inviting both local and global journalists to get in touch for additional information.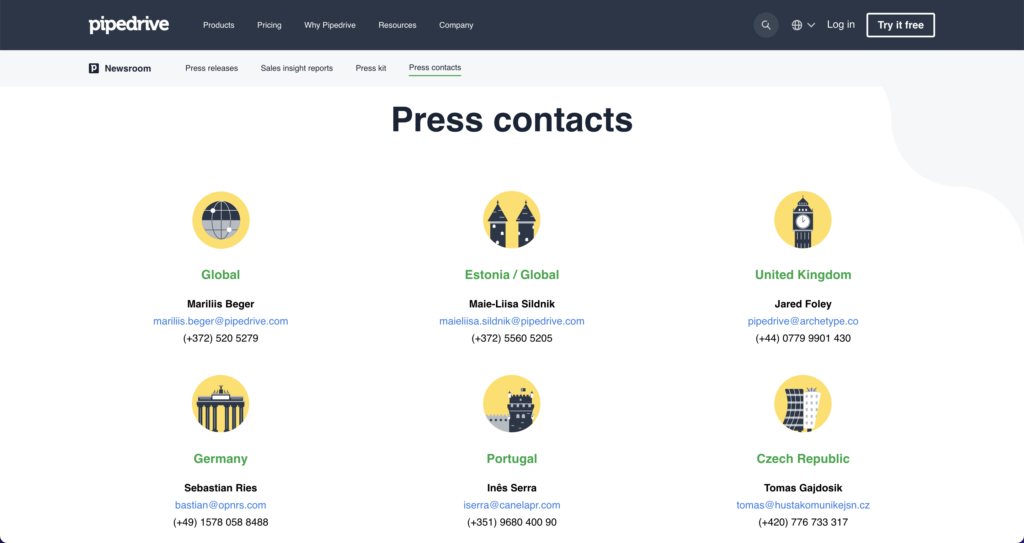 8. Official Podcasts Or Blogs
Links to your official podcasts or blogs where journalists can learn more about your brand.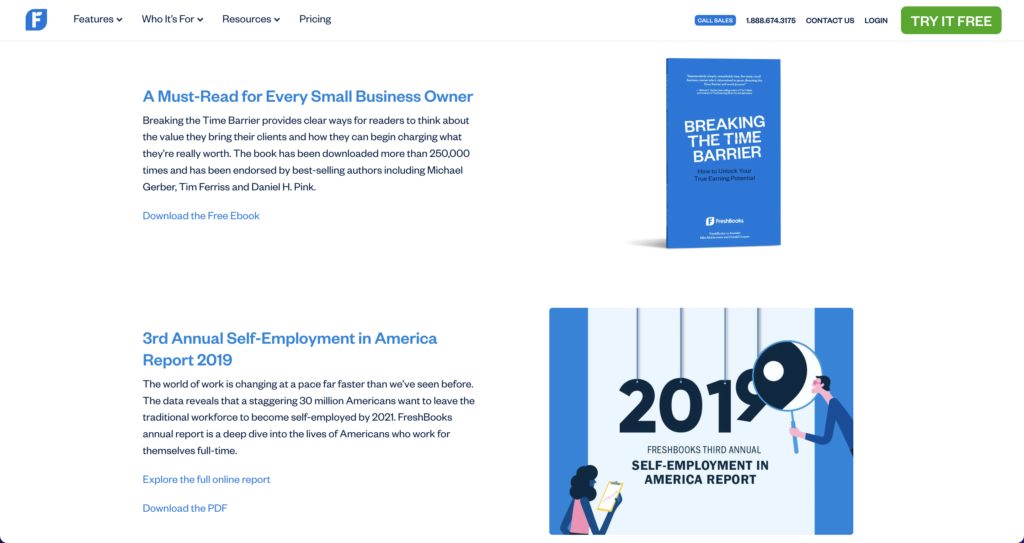 Media Kit Examples Worth Emulating
Here are some of the best media and press kit examples you can learn from.
1. Shopify
Shopify has a dedicated "Company Info" page in its press section that starts with its introduction and includes sections such as the leadership team profiles, company stats, customers, vision, visual brand assets, and relevant contact details.
It is an excellent example of a comprehensive and regularly updated digital media kit.
Take a look at Shopify's media kit
2. ClickUp
ClickUp has a detailed Press page that includes its latest press releases, company background information, testimonials, relevant stories, etc.
It also includes direct download links to ClickUp's media kit which includes its leadership team profiles, visual brand assets, company videos, and lots of other useful information for journalists.
Take a look at ClickUp's media kit
3. Buffer
Buffer's Press page is one of the best examples of a comprehensive media kit that covers most bases. It starts with the official contact for journalists and follows it up with the company's background, key stats, customer logos, testimonials, leadership profiles, employee profiles, brand assets, product screenshots, and press releases.
In short, it has everything a journalist needs to know to cover Buffer's story.
Take a look at Buffer's media kit
Media Kit Template
As I said, there's no fixed template or structure to a media kit. You can view the examples I've shared in this post to come up with your own media kit format or download this simple template we made for you to get started.