Content Marketing
How to Score "As Seen On" Logos for Your Website
Have you seen those fancy "As Seen On" or "Featured In" logos agencies, consultants, and SaaS companies use on their sites? Look good, don't they?
Companies use them to borrow credibility from well-known and high-authority publications in their niche.
And it works.
When visitors see the logos of Entrepreneur, Fortune, Fast Company, Forbes, or any other top publication on your site, they immediately start trusting you and assume you're a quality service provider.
So, how do you get your site featured in your industry's top publications and fill your "As Seen On" section with credible logos?
I'll share all the answers in this detailed article.
Why Should You Care About "As Seen On" Logos?
With numerous SaaS companies and startups popping up in every industry, you need something to differentiate yourself and catch your audience's attention.
If you already have big-name customers, displaying their logos on your site is a great way to win your audience's trust.
Like Thinkific has done.
But what if you don't have big brand customers? This is where the "As Seen On" or "Featured In" logos come to the rescue.
The "As Seen On" section contains the logos of well-known publications that have featured your brand in a story. It's solid social proof of your brand's credibility that immediately positions you ahead of your competitors and persuades your prospects to take you more seriously.
I don't say this without scientific proof.
Psychologists say that our brains automatically assume someone to be better, more competent, and more trustworthy because of an impressive appearance. They call this tendency the Halo Effect.
So when your people see the "As Seen In" logos on your site showing your startup has been featured in Forbes or MIT Tech Review, they assume you have something unique to offer.
In a world of short attention spans and unlimited competition, this extra attention is priceless. It contributes to converting unsure prospects into leads and customers.
As Seen On Logos: 7 Ways To Get Featured In Authority Publications
So, how do you get big-publication names in your site's "Featured In" or "As Seen On" sections? Let me share a few strategies we've used to feature our clients in the top publications in their niches.
1. Pitch Insights and Data
Publish high-quality articles that share unique insights or data that other websites can use. Then, make full use of it by promoting it via email outreach.
Say you've published a survey report that describes eCommerce email trends. Pitch it to eCommerce blogs, content creators, influencers, and anyone interested in the topic.
If you need any help with that, we've written a detailed guide on how to write a pitch, with examples and templates.
When publishers use data from your report or insights from one of your articles, they link to your site and mention your brand, earning you valuable backlinks and media coverage.
Check out how Nansen, a blockchain analytics platform, got featured in this Fast Company article showcasing their study.
After this, it's pretty easy to put a Fast Company logo in your "As seen on" / "Featured in" section.
2. Get Interviewed By Relevant Publications
Most publications seek authentic, credible, expert voices to share insights on relevant topics.
You can use this to pitch yourself or a technical expert from your team for an interview with a leading site in your niche.
This approach works well when your industry sees new developments and different publications compete with each other to cover them.
This is also the approach that gives you the most stage. The entire earned media piece you'd land would be about you.
For example, check out this interview CIO did with Cenlar CIO, Steve Taylor.
Therefore, not surprisngly, this is also one of the toughest methods to nail.
When pitching yourself as a thought leader, you have to do it with finesse. You have to follow common PR guidelines that journalists expect you to know. And you need to nail this without sounding like, well, an a**hole.
You need to have a well-crafted story and angle, something unique and exclusive to bring to the table.
Quite frankly, though we have seen brands manage to land interviews and roundtables themselves, this is one of those cases where we feel we're most needed, as a PR agency.
We help our clients think about where they'd like to get featured, what these publications are more willing to be interested in, brainstorm on how to provide the data they want, craft the pitch, and serve it to the publication on a silver platter.
3. Write Guest Posts
Guest blogging is an excellent way to get featured on your target blogs and reach new audiences.
But here's the problem with guest blogging.
The best sites in any niche get hundreds of low-quality guest post pitches every day. So, it's pretty hard to stand out and get your pitch considered by an editor.
To get featured, you must be ready to work hard and go the extra mile because if your article gets published, you'll get priceless brand coverage.
Here's how you can do it.
Follow and connect with the editors of your target sites on Twitter and LinkedIn, and start engaging with them.
Analyze the best-performing content on your target site and identify the topics they frequently cover.
Find a unique angle for a story that'll resonate with their audience.
Reach out with a compelling guest post pitch and mention the unique value it offers.
Follow up via social media.
This process doesn't guarantee success, but it gives you a much better chance of getting featured on a top site than random direct pitches.
4. Get Invited To Podcasts
Podcasts are spreading like wildfire and driving insane traffic to business websites. What's more, podcast hosts are always looking for new and relevant guests to offer value to their listeners.
Time to cash in.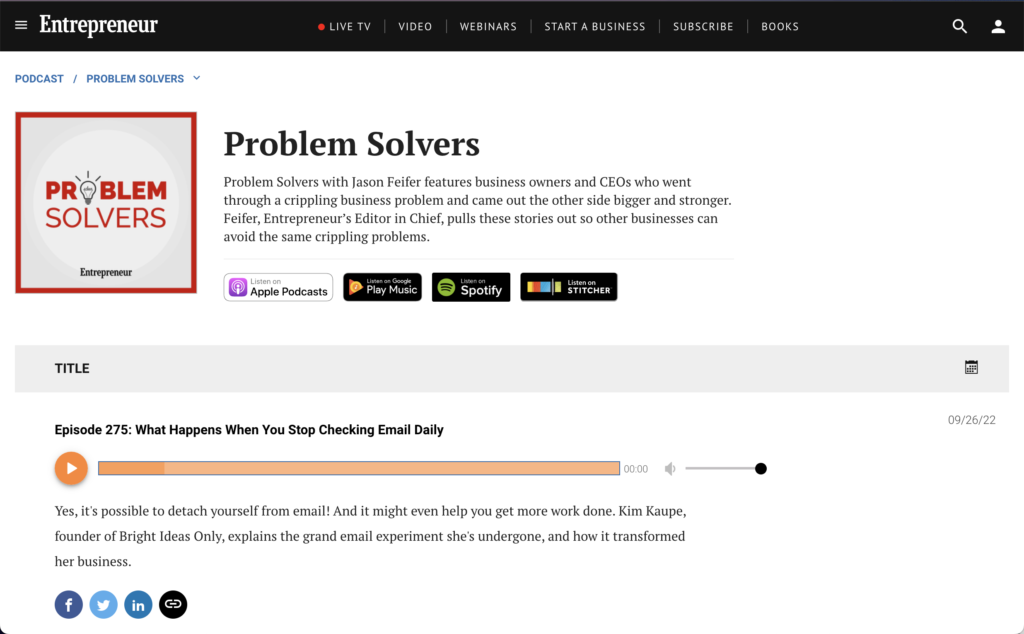 Reach out to the most influential podcasts in your industry, and pitch your brand story or a relevant angle their audience might find interesting.
Again, landing these opportunities requires connections. We can help.
5. Use Strategically Designed Press Releases
Strategically designed press releases can do wonders for your brand's PR and get you featured in some of the most influential publications in the world.
What's a strategically designed press release? It's an engaging and SEO-optimized announcement for journalists and media publications with information about a unique product feature, industry insight, or something newsworthy that journalists would love to cover in a story.
When you create such press releases and promote them the right way, the journalists working for influential publications might be interested in your story and contact you for more details.
Then, even if one influential publication covers your story, others will follow, giving you a bunch of logos to feature on your site.
We've described the process of creating such press releases (with examples) in this detailed article.
6. Publish High-Authority SEO Optimized Content
This approach differs from the others we've discussed so far because it doesn't get immediate results. But it offers the highest ROI in the long run and has numerous benefits for your brand image.
So, while trying the other methods I've shared, don't forget to develop a comprehensive content marketing strategy that addresses the core problems of your audience.
Once that happens, your brand will start getting organic media coverage, and journalists will reach out to you for interviews and podcast appearances.
Ready To Add New Logos To Your Site's "As Seen On" Section?
Getting featured in your industry's top publications and adding high-authority logos to your site can be a game changer for your company. But as you've seen in this article, it requires planning and effort.
But we're here to help, and this is what we do best,
Contact us today, and we'll chalk out a customized plan to help you leverage our industry connections and contributor network to land fantastic guest posts, podcasts, interviews, and other branding opportunities.