SaaS Marketing
B2B SaaS Marketing: 6 Actionable Steps For SaaS Companies [Data Backed]
Do you have a well-defined B2B SaaS marketing strategy for your business? Or you're just trying a bunch of uncoordinated tactics hoping something works?
B2B SaaS marketing is fundamentally different from other online business models like B2C SaaS marketing, advertising, or affiliate marketing.
You don't earn through ad clicks or affiliate sales and can't trick users into signing up for your product with surface-level content or mass email campaigns.
Your target audience is knowledgeable and researches different solutions before choosing a product or service.
So your marketing strategy needs to convincingly answer their questions and position your product as the best solution to their problems.
In this detailed article, I'll share the various steps involved in creating a B2B SaaS marketing strategy and share examples to help you apply them to your business.
Let's dive in.
What Is B2B SaaS Marketing And How Is It Different?
Business-to-Business (B2B) Software As A Service (SaaS) marketing is the process of promoting a subscription-based product to other businesses.
This process is made primarily through product demonstrations, free trials, content marketing, and advertising. However, content marketing is the most important of all these tactics.
The main goal of B2B SaaS marketing is to demonstrate the results businesses can achieve by using your product.
The One, Ten, One Hundred video series by Wistia, a leading video platform used by thousands of businesses, is an excellent example of B2B SaaS marketing.
It's a Webby award-winning documentary series in which Wistia challenges a video marketing agency to create three ad campaigns with very different budgets.
It provides exciting content for Wistia's target audience and promotes its product without directly discussing it.
Shopify is another brilliant practitioner of B2B SaaS marketing. Its podcasts highlight eCommerce success stories and discuss different online business trends.
All this content directly benefits Shopify's target audience and strengthens its relationship with the platform.
The target audience of a B2B marketing campaign is the decision-makers and professionals in other organizations. They take much longer to arrive at a purchase decision as compared to a regular consumer.
Because of this, B2B marketing campaigns are also spread over different stages of the buyer's journey, providing various types of information to help the buyers reach the purchase decision.
In easier words, a B2B SaaS marketing strategy focuses on answering the questions of its audience more comprehensively than its competitors.
This helps in establishing the brand authority and credibility required to persuade buyers in your favor.
The Major Difference Between Conventional And SaaS Marketing
A conventional business selling software or physical products needs to sell the product once to profit. Any repeat sales are often considered a bonus.
But SaaS businesses charge their customers a monthly subscription fee to use their product at a low price. As a result, their profits usually come from expanding their customer base and retaining it for several months.
This makes B2B SaaS marketing much more challenging since your customers question the ROI of your service every month when they're paying the subscription fee.
Apart from having a great product, you also need to continuously engage your customers with educational content to ensure they benefit from your product and keep using it.
Plus, you also need to look for ways to encourage annual subscriptions to minimize your customer churn rate.
In short, B2B SaaS marketing strategies are closely linked with your product performance and require you to stay engaged with your prospects and customers all the time.
How To Create A B2B Marketing Strategy
A B2B SaaS marketing strategy has various components that work together to drive results for your business.
In the following sections, I'll describe the different steps you need to follow to create the basic structure of your SaaS marketing strategy.
You can customize it according to your business and target market.
Step 1: Understand The Pain Points Of Your Prospects With Keyword Research
The first step of a B2B SaaS marketing strategy is to understand the needs of your audience using keyword research and various other methods. Then create a buyer persona based on your findings.
A buyer persona is a sample profile of your ideal customer.
It explores the Why behind your customer's decisions, the challenges that force them to look for your solution, and the results they hope to achieve with it.
According to Single Grain, using personas improves every aspect of your marketing strategy and allows you to create precisely the content that your audience needs.
Here's a sample buyer persona to help you understand what it looks like.
Some popular buyer research sources are:
Competitor analysis
Keyword research
Customer interviews
Focus groups
Review mining
Forum and social media research
Surveys
But the most important ones are keyword research and analyzing the online conversations of your target audience.
Start with a simple Google search on your topic. Analyze the "People also ask" section in the SERPs to find the most common questions your audience is asking.
Let's say you're marketing an invoicing solution for agencies and freelancers. Here are the questions people are asking about your product.
When you click on a question, more relevant queries pop up at the bottom of the list.
One more very cool trick you can do is click on one of the search results, and immediately bounce back to the SERPs page. This will open up the People also search for section.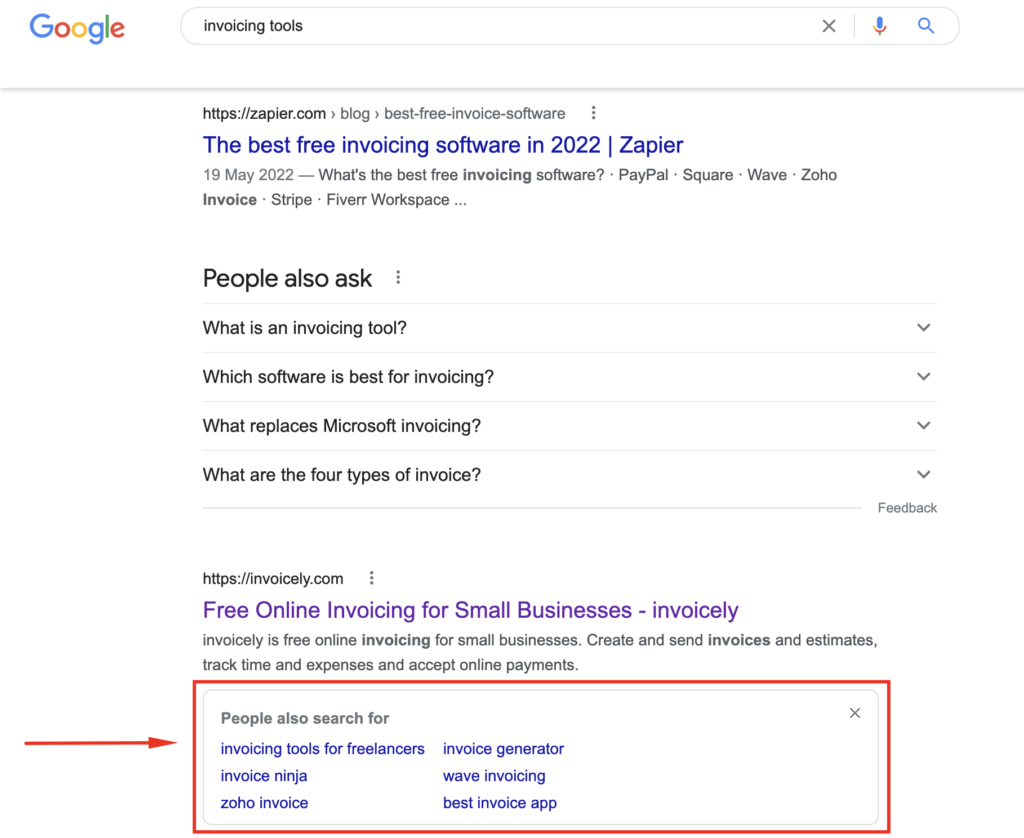 Think of this as Google's way of telling the user "didn't find what you're looking for? Take a look at what other terms people searched for".
AnswerThePublic is another handy tool that curates the most common questions on a topic in a visual format.
For example, it gave me a list of 350+ questions when I searched for "email marketing."
Not all of its suggestions are relevant, but you can find many useful questions/keywords for further investigation.
Download the list as a CSV and plug it into a keyword research tool like Ahrefs or SEMRush. Both these world-class SEO tools help you uncover profitable high-volume keywords that your audience is searching for.
I recommend reading this keyword research guide for more insights.
Step 2: Create Your Content Marketing Funnel
After understanding your audience's core needs, you need to develop a content marketing funnel that answers their questions at every stage of the buyer's journey.
A content marketing funnel has three stages.
ToFu Content – Top of the Funnel Content
MoFu Content – Middle of the Funnel Content
BoFu – Bottom of the Funnel Content
Here's what a content marketing funnel looks like
But why do you need a content marketing funnel?
Because a typical B2B SaaS customer doesn't immediately buy after landing on your site. In fact, research shows that an average B2B consumer engages with 11.4 pieces of content before making a purchase decision.
A content marketing funnel helps you answer all the questions of your target audience at the various stages of the buyer's journey.
Let me explain how.
Top Of The Funnel (ToFu) Content
The top of the funnel content is designed for the awareness stage of the buyer's journey. It targets people who have no idea about your brand but have a problem that your product can solve.
This requires proper blog management, as you'll mostly use blog posts and long-form content in the ToFu stage to generate traffic by targeting high-volume search keywords.
Your content will cover your industry's basic concepts and processes and answer the most fundamental questions of your audience.
For example, a SaaS web design tool can target questions such as:
"what is web design"
"what is logo design"
"the fundamentals of branding"
etc.
Similarly, an ecommerce SaaS solution like Shopify can target keywords such as
"how to find products to sell online"

"what is ecommerce"

"how to create an online store"
"how to start an ecommerce business"
etc.
Here's an example.
This Shopify article answers all the beginner-level questions about eCommerce. It's s a perfect example of ToFu content that generates a lot of traffic.
The topics and keywords in this funnel stage have high search volume but low purchase intent because the reader is still learning about the problem. So your goal with ToFu content is not to sell your product directly.
Instead, you want to manage your online reputation by offering free knowledge that establishes your brand as an expert on your topic.
To find keywords for the ToFu stage, use Ahrefs, SEMRush, or any other keyword research tool and search for your main topic.
The questions in this screenshot are beginner-level queries that are perfect for creating ToFu content.
But ranking for these keywords would require two things.
Detailed and high quality-content
High-authority backlinks
The best route is to target long-tail keywords with mid-high search volume to drive consistent traffic to your site. Then, once the users are on your site, you'll educate them and use different strategies to graduate them to the next stage of the funnel.
Earned Media – ToFu
Similarly, you also need to focus on building earned media assets (getting featured on other high-authority sites) in the ToFu stage. You can do this through guest blogging on relevant high-authority blogs.
In the ToFu stage, create guest posts on various informational topics of your niche and link back to your blog content.
But getting featured on high-authority sites isn't as easy as it used to be. So an effective route is to connect with the existing authors on your target sites and partner with them to get backlinks and brand mentions (we can help with this part.)
Middle Of The Funnel (MoFu) Content
In MoFu content, you target prospects who're aware of the problem and want to explore the various solutions available to them.
This is where you'll actively highlight the benefits and features of your product. By doing so, you show your audience how you can solve their problems.
Most B2B SaaS businesses use comparisons and alternatives posts in the MoFu stage. Plus, they offer free guides and webinars to convert the traffic from the ToFu stage into subscribers and leads.
Here's an excellent example of a MoFu stage article by Kajabi, a popular LMS and eLearning platform.
It targets a popular keyword that compares Kajabi with Teachable, another leading online course platform.
It dissects the key strengths and weaknesses of Teachable against Kajabi and positions itself as the better solution.
This strategy is especially useful when you're a new entrant in the industry competing with more prominent brands.
Similarly, new SaaS companies target the "[top competitor] alternatives" keyword to use their competitors' popularity for traffic generation.
For example, Canva is the world's top online design tool for B2B and B2C users. Visme, Canva's closest competitor", ranks number one for the keyword "Canva alternatives."
This positions Visme as a top brand alongside Canva. This helps Visme attract thousands of visitors every month from search engines.
Earned Media – MoFu
Also, target similar topics (comparisons and alternatives post) for earned media assets in the MoFu stage. You can do this through guest blogging and by reaching out to authority sites that compare different products in the same industry.
This comparison between Kartra and Kajabi is an excellent example of MoFu earned media from Kajabi's perspective.
MoFu content doesn't attract as much traffic as ToFu content. However, the purchase intent of MoFu traffic is higher because it is problem aware and actively looking for different solutions.
Your goal should be to convert MoFu traffic into leads using free resources like reports or guides, webinars, and lead magnets.
The content ideas for this stage would mainly revolve around how users can achieve different business goals using your product.
This Ahrefs article is a great example to follow.
It shows how users can achieve various SEO and marketing objectives using Ahrefs. Unlike ToFu content, this article links everything to Ahrefs features. Hence, it builds the ground for a sales pitch in the BoFu stage.
Bottom Of The Funnel (BoFu) Content
BoFu content marketing is all about closing the sale. It targets users who understand the problem your product solves and see a clear relationship between your product features and benefits.
In SaaS marketing, most leads in the BoFu stage have also used your product via free trials. So the only thing left is to upgrade to your premium subscription.
This is where the content of your product pages and sales pages plays a vital role. It needs to reinforce the connection between your features and benefits. It needs to convince users to upgrade by highlighting business results through testimonials, case studies, and success stories.
According to Harvard professor Gerald Zaltman, 95% of all purchase decisions are subconscious. Which means they're primarily driven by emotion rather than logic.
This is where images of happy customers, product screenshots, and HD video case studies are a game-changer. In fact, any content that allows them to imagine what it's like on the other side of the fence is excellent for conversions in the BoFu stage.
BoFu content gets almost all the traffic from sources such as your email list, social media pages, blog content, or advertising campaigns.
Like the other two funnel stages, you'll also need to build earned media assets for the BoFu stage. This can be in the form of product reviews and direct affiliate links on other sites. You can build them by partnering with influencers or starting an affiliate program.
Concluding The Content Marketing Funnel
The content marketing funnel forms the core of your B2B SaaS organic marketing strategy.
Its goal is to:
Generate traffic through ToFu content
Convert it into leads through MoFu content
Close the sale with BoFu content
The content can be in the form of blog posts, articles, guides, or YouTube videos.
If your content funnel is not driving conversions, you need to evaluate your target keywords and the quality of your content.
For more actionable steps and examples, I recommend reading this in-depth guide to creating a content marketing funnel.
Step 3: Use Advertising To Feed Your Funnel
A well-designed content marketing funnel is good enough to drive consistent search engine traffic to your site and convert it into leads and customers.
However, it will take at least 6-12 months of consistent effort to make it work.
This is why investing in various paid marketing channels is equally important for your business growth. In fact, if you include the advertising costs in your product pricing (which you should, of course), your paid marketing campaigns can pay for themselves.
Start by adding Facebook Pixel to your site so that you can run Facebook retargeting campaigns on your audience. Pixel is a small script that, once added to your site's code, can track all your visitors who're on Facebook.
You can find the exact steps of setting up Facebook Pixel in this guide.
Similarly, you can add Google's retargeting code to your site so that you can run retargeting campaigns (step by step guide here.)
Next, set up the landing pages for your ad campaigns where you can offer a free lead magnet, a free product trial, or a limited-time discount offer to convert traffic into leads and customers.
There two main goals with paid advertising in B2B SaaS marketing.
Driving traffic to your landing pages to generate leads and customers faster.
Retargeting users with Facebook ads who've consumed your content.
Ideally, you should create different retargeting ads for visitors in different funnel stages. For example, if someone reads an awareness stage article on your site, you can show them Facebook ads of a lead magnet or a free trial to drive conversions.
For visitors who've already signed up to your list, you can run limited-time discount ads or special offers.
Facebook offers a free course that covers all aspects of Facebook marketing for beginners. I recommend checking it out for more details.
Step 4: Nurture Leads With Email Marketing
Email marketing plays a decisive role in a B2B SaaS marketing strategy.
Why? Because it allows you to send personalized messages to your subscribers, educate them about the various benefits of your product, and make them offers they can't refuse.
And it's not just about educational emails either. Research shows that consumers love to get emails with promotional offers.
However, for best results, you need to design a comprehensive email marketing strategy that aligns with the various stages of your buyer's decision-making process.
It starts with converting your ToFu and MoFu traffic into email subscribers using lead magnets. Once a subscriber joins your list, have an automated email series ready to be sent to your subscribers based on their engagement with your content.
This infographic lists the various emails you can send in the different stages of the buyer's journey.
This is just a basic email framework.
You can include or exclude emails from your sequences based on the results of your marketing campaigns.
But remember this.
Email marketing is where actual relationship-building starts for SaaS companies. This is where you have the space to showcase your expertise, demonstrate product features, and share success stories.
Make full use of this opportunity.
Step 5: Dominate Software Review Platforms
Research shows that 88% of consumers trust online reviews as much as personal recommendations.
When it comes to SaaS products, reviews become even more critical.
Why? Because most SaaS search queries are already dominated by review sites such as Capterra, G2, TrustPilot, etc.
When prospects search for software in your industry, they're likely to visit one of the top software review sites to find the best products. When prospects google your brand name, there's a high probability that these reviews will appear on the first page.
In any case, if your product's average rating is anything less than 4.5 on these sites, consumers are unlikely to go for it. Not only that, a bad rating on these sites turns into a negative search result on Google that you'd want to remove or optimize.
Moreover, a bad reputation on any of the top review sites can cause a chain effect of bad reviews because many bloggers and content creators simply copy/paste the ratings from these sites in their product reviews.
This is why it's crucial for your brand image and sales to maintain a high rating (above 4.5) on these platforms.
Step 6: Master Social Media Selling
Did you know that 78% of salespeople engaged in social selling outsell their competitors who aren't?
For B2B software products, social media selling is crucial because most people seek peer recommendations before choosing a product.
Most of these conversations are happening on social media platforms such as LinkedIn, Facebook, Twitter, and Instagram.
LinkedIn and Twitter, in particular, are critical platforms for SaaS companies because:
Many founders, business owners, entrepreneurs, and influencers use Twitter daily.
Sales conversations are happening all the time in LinkedIn groups where people are seeking recommendations from their connections.
But don't make the mistake of hard-selling your product on social media. Instead, become a part of the conversations and have a social listening strategy to understand the questions of your prospects.
Grammarly is an excellent example to follow.
Instead of hard-selling content, Grammarly regularly posts engaging content that's relevant to its prospects. Plus, it's pretty quick to answer any questions by its users on social media.
As a result of Grammarly's proactive social listening strategy, it has amassed almost 200K followers on Twitter alone.
So, become a trusted knowledge source by engaging with your prospects, answering their queries, and sharing evidence of your product's performance.
Social media selling is a long game because it takes time to build a loyal following that trusts your views. But once you've invested time and resources in building such an audience, social media can become one of your top sale generation platforms.
Are You Ready To Build Your B2B SaaS Marketing Strategy?
I've given you a crash course in B2B SaaS marketing strategy by discussing all the key factors that you need to consider.
Each of these factors is crucial for the overall effectiveness of your marketing strategy.
But creating a content marketing funnel that attracts traffic to your site, converts it into leads, and persuades them to purchase your product is the most crucial part.
If you want help and guidance in developing your B2B SaaS marketing strategy, contact us today for a free consultation call.
B2B SaaS Marketing – Frequently Asked Questions (FAQs)
What are SaaS and B2B?
SaaS is an acronym for Software As A Business, while B2B means Business To Business. B2B SaaS companies sell cloud-based software designed for other businesses for a monthly subscription fee.
How do you market a B2B SaaS product?
There are various B2B SaaS marketing techniques such as content marketing, advertising, email marketing, and conversion optimization.
Is Netflix a SaaS?
Yes, Netflix is a SaaS, although it isn't B2B SaaS.
How is SaaS different from conventional marketing?
SaaS products are cloud-based services that charge a monthly subscription fee. Most conventional software products charge a one-time license fee and allow users to use its features offline.
How do I start SaaS marketing?
Start by analyzing the core needs of your audience and identifying their biggest questions. Then create actionable content that builds brand awareness and credibility by answering those questions and connecting prospects with your brand.
How do you get SaaS leads?
Some popular SaaS lead generation methods are content marketing, influencer marketing, email marketing, and free trials.