Reputation Management
How to Remove Negative Google Search Results In 7 Actionable Steps
"How can I remove negative Google search results when people google my name?", we get this question from worried clients all the time.
Imagine searching for your brand name on Google and seeing first page results with titles like
"Is [Your brand] a scam?"
"[Your brand] has the worst customer service."
"[Your brand] is not worth your money."
If this happens to your brand, the vast majority of your target audience will not purchase your product. 84% of people trust online reviews and third-party content when evaluating new products.
In this article, I'll show you how to protect your brand's online reputation and remove negative search results from Google's search engine.
Let's dive in.
What Are Negative Search Results In SERPs?
In online reputation management, negative search keywords are terms that return negative results about your brand in Google Search.
For example, "Is ClickFunnels legit" is a high-traffic keyword people search for when evaluating ClickFunnels (a popular marketing tool). Look at some of the top results for this keyword.
The featured snippet result is a positive review of the tool. But if you go down this page, Google shows multiple Quora threads with dozens of responses from current and past users about ClickFunnel's credibility.
This can easily make or break a sale for ClickFunnels. So it's crucial that most of these threads are dominated by positive sentiments.
This is just one example, but it explains why every SaaS marketing strategy has to include brand monitoring.
Types Of Negative Search Results That Hurt Your Online Reputation
Negative search results can hurt your brand in different forms. Here are some of the most common content types that appear in Google Search against negative brand keywords.
Product Reviews
Product reviews that are either negative or frame your product as the second-best option are among the top content threats to your brand's reputation.
Forum Threads
Threads on reddit and Quora often make it to Google's first page for brand keywords. Similarly, negative YouTube videos about your brand are also a significant threat. For example, see this search result containing multiple reddit threads discussing whether Gary Vee is a scam or not.
Whether he is or isn't, one thing is for sure – a result like that on the SERPs damages his online reputation.
This is among the top threats to many companies' online reputation, since angry customers like to express their anger on these forums.
Blog Posts/Articles
Opinion posts by bloggers or articles by reputable sites that paint your product in a bad light.
Customer Reviews
Customer reviews have the most significant impact on your prospect's purchase decision. For SaaS companies, countering negative reviews on sites like Capterra, G2, TrustRadius, etc., is crucial. These results appear on the first page against brand name keywords with starred ratings.
Imagine your audience finding the above search result with your brand name when they conduct their research.
Negative Reputation Campaigns
Sometimes competitors use blog networks to run coordinated negative reputation campaigns against their brands.
How To Remove Negative Results From Google Search
Let's say your brand is already suffering from a negative online reputation, poor customer reviews, and bad-mouthing forum threads showing up on Google Search.
Here's how you can remove negative search results and build a credible online reputation.
1- Monitor And Track Negative Keywords
The first step of online reputation management is to create systems to actively monitor any reputation threats in the form of articles, negative brand mentions, customer reviews, or social media posts.
Set Up Google Alerts
Google Alerts is one of the main online reputation management tools you can use to monitor and track keywords. It sends you email notifications every time it indexes a web page that mentions your desired keyword.
Configure alerts for your brand name, competitors, and any other keywords closely linked with your brand so that you know whenever Google indexes something negative about you.
Audit Your Google Search Profile
Start with a simple Google search to see what comes up against your brand name. Then view the related and suggested searches for your brand name. Use different modifiers with your search to find the most common suggested searches.
Check the first page results for those keywords to ensure nothing negative shows up.
Next, use Ahrefs to run a complete search profile audit of your brand. Since this is a slightly technical exercise, I recommend consulting a specialist SEO agency.
As a result of the audit, you should have a list of keywords that show negative search results for your brand which you'd want to remove. I'll explain how to counter them in the remaining post.
This brand monitoring guide has many other practical tips you should definitely know about.
2- Claim Your Brand Name On Google Search Results
Ideally, the first page results for your brand name searches should be dominated by your official website, social media profiles, company profile, and other official resources so that there's no space for any negative propaganda.
For example, the first page results for "Hubspot" show Hubspot's official site, social media profiles, blog content, videos, and leadership profiles.
So make sure your brand claims its rightful name in SERPs through the following assets:
Official website
Profiles on Facebook, LinkedIn, Twitter, YouTube, Crunchbase, Instagram, Pinterest, Slideshare, etc.
Wikipedia page (this one's not easy, contact us to learn how to get it done)
Company profiles on SaaS review sites like Capterra, G2, TrustRadius, etc.
Chrome extension / mobile app feature pages if you have them
Company author pages on websites like Medium
There are more tactics you can use, but there are the main ones. Optimize all these profiles for your brand keywords so that you can claim the top ten organic search slots, and push down the negative search results from Google search.
Note that in many cases, you'd have to do some link-building in order to get these assets indexed and ranking on the first page.
3- Leverage Content Marketing To Bury Negative Search Results
Content marketing is among the best ways to build your brand's credibility and remove negative Google search results. Research shows that 81% of consumers trust blogs, and 70% learn about brands through their content than ads.
When you publish high-quality content thousands of people read and share every month, negative content loses its impact.
But that's not all.
You can target negative keywords in your content marketing strategy to ensure that your site shows up instead of the negative result when someone searches for them.
Here's how to do it.
Identify the negative keywords to target.
Evaluate the currently ranking harmful content (length, quality, backlinks, authority, etc.)
Create content using the same keywords but make it longer, deeper, more valuable, and more engaging. Use our guide on generating blog post ideas to come up with unique angles for your content.
For example, suppose a negative article is 700 words long with one image and an external link. In that case, your article should be double the length, with 3x more images, more examples, and credible data proofs.
If your site has decent search authority and the negative content is published on a newish site, this should be enough to push it down the search results. Even if it isn't removed from page one, your content will be there to counter it.
But what to do if the negative content is on a higher authority site? Read on.
4- Obtain High-Authority Backlinks To Your Content
High-quality content + high-authority backlinks is the simple formula for ranking your site for any keyword you want.
As this research shows.
But to build worthy backlinks to your site, you need great content, connections with the right journalists, bloggers, and editors, and a lot of patience.
Not easy. But this is where our authority link building services can help 🙂
5- Invest In Coordinated PR Campaigns
Content marketing is a reliable and long-term reputation management solution. But it takes time to take effect.
So it's best to complement it with paid PR campaigns.
For example, if you google "Tailor Brands", a SaaS platform that helps small businesses kickstart their branding and marketing process, you see this result on the first page: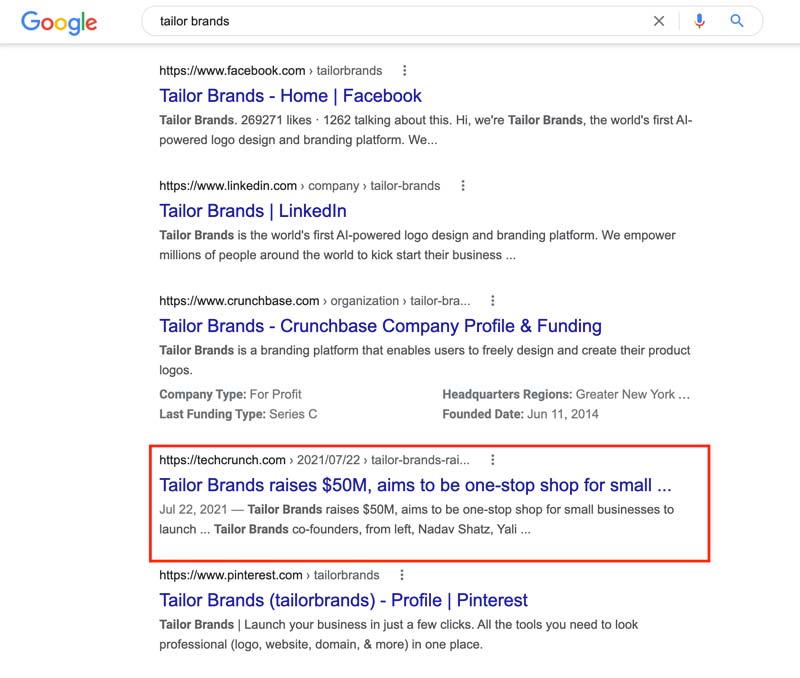 This is why it's essential that you know how to write a press release, and how to use it to land high domain authority syndications that have high chances of ranking for your brand name.
6- Be Careful About Responding To Negative Comments And Threads
You'll sometimes find it hard to push down negative discussion threads on Quora, reddit and other high domain authority forums. In such cases, you might have the urge to respond to the original comment professionally.
Don't. Not if your ultimate goal is to remove the thread from the SERPs.
By contributing to the thread's conversation, you're helping Google recognize the URL as current and relevant. As a result, you just help boost its SERPs rankings.
Only after all else fails, then you definitely need to respond. As a last resort, you have to explain your side of the story and answer the criticism with proof. That way, neutral readers and prospects can at least have the complete picture.
7- Encourage Positive User Generated Content (UGC)
Positive reviews and testimonials from satisfied customers go a long way in countering negative Google search results by boosting your profile on review sites.
But research shows that satisfied customers are less likely to share reviews voluntarily as compared to dissatisfied customers.
This is why you need to encourage and incentivize your customers to publicly praise your brand whenever possible.
You can do this by running contests, offering discounts, or simply reminding happy customers to leave reviews.
This article shares various ways to increase SaaS reviews.
What To Do If You Can't Remove Negative Results From Google's Search Engine?
I've shared some practical ways you can remove negative Google search results. You've got two options now.
Do it yourself.
Hire professionals to do it for you.
Here's why the second approach is safer, cheaper, and faster.
We Have Proven Systems For Combating Negative Google Search Results
Seasoned professionals have years of experience tackling various types of reputation management challenges. In addition, they're experts in SEO, ORM, link building, and other essential skills required to secure your brand's reputation. So instead of switching from your core business to resolve negative reputation problems via trial & error, it's wiser to hire professionals.
We Have A Wide Network Of Media Publications
Link building requires prior connections with website editors, content creators, and journalists. Why? Because busy editors are bombarded with content suggestions and pitches every day. Most of them never get a response. But when editors get pitches from their trusted content creators they've known for years, securing high-authority links becomes much easier.
We Understand The Legalities
Google respects freedom of expression, so you can't use legal assistance in removing negative content by past customers or even your competitors. And even when it works, legal action costs a fortune. So let us handle the issue so that we can explore all options and take the necessary legal route only when required.
We're Cheaper In The Long Run
You're an expert in your business, and we're experts at reputation management and SEO. Doing ORM yourself might seem to be the cheaper option in the immediate term, but when you consider the opportunity cost, plus the high probability that you won't counter negative search results properly, working with professionals is still the cheaper option in the long run.
So if you're facing a negative reputation attack, want to remove negative search results from Google, or build a proactive ORM strategy, contact us now for a free consultation call.