Reputation Management
A Complete Guide to Brand Monitoring
The internet is an amazing tool for business marketing, but it also serves as a megaphone for people's opinions. Let negative publicity go unchecked on the web and it leaves a sticky footprint that can take years to scrape off.
Proactively monitoring your brand's presence on the web is a smart strategy, but its effectiveness depends on how thorough you are, and what tools you use. Here's a complete guide to everything you need to know about saving and improving your business image with brand monitoring.
Here's an overview of what you'll learn:
Why brand monitoring is important
Free and paid tools for brand monitoring
Brand monitoring tactics for social media and the web
Types of keywords to track
Why engage in brand monitoring?
Probably the most popular reason businesses engage in brand monitoring is online reputation management. Brands want to do their best to minimize negative sentiment online, and for good reason. According to Retailing Today, 81% of shoppers research online before buying.
While reputation management matters most, it's really only one of many benefits of brand monitoring. You can also track:
Sentiment
Your sales numbers and ROI don't tell you everything about business performance. You also want to know how people feel when they make purchases from you. Look at Time Warner Cable, for example. Millions of Americans used their services before the company was acquired, but were they happy and satisfied with it? Not at all.
Sentiment analysis can help you determine how people feel about your business or products. It's also essential to monitor when running new marketing campaigns, in case people react negatively to your message.
Customer engagement
Monitoring your brand mentions around the web gives you way more opportunities to engage with your audiences. While many will @mention your brand when making a comment on Twitter, many others will simply use your brand name or hashtags. You'll miss out on these opportunities to engage or provide customer service unless you track keywords.
Competitor performance
Competitor analysis can help you develop better products, employ a unique/better performing marketing strategy, and take other steps to stand out in the market. You can use the same tactics you use to monitor your own brand to keep track of key competitors as well.
And more (Industry insights, collaboration opportunities, etc.)
Brand monitoring can also help you keep an eye on industry performance overall, help you brainstorm marketing campaign ideas, identify opportunities to work with influencers, and more. The more time you spend listening to industry conversations around the web, the more opportunities you'll discover.
Free and paid tools for brand monitoring
Comprehensive brand monitoring involves a lot of tracking and social listening. Doing it manually would be a full time job, and you'd never get a complete picture of your web presence. Here are just a few of the many free and paid tools you can use to start brand monitoring:
Google Alerts
Google Alerts is a simple, free, introductory tool anyone can use to start monitoring mentions of their brand. All you have to do is type in a brand-related keyword, set language and region specifications, and click "Create Alert":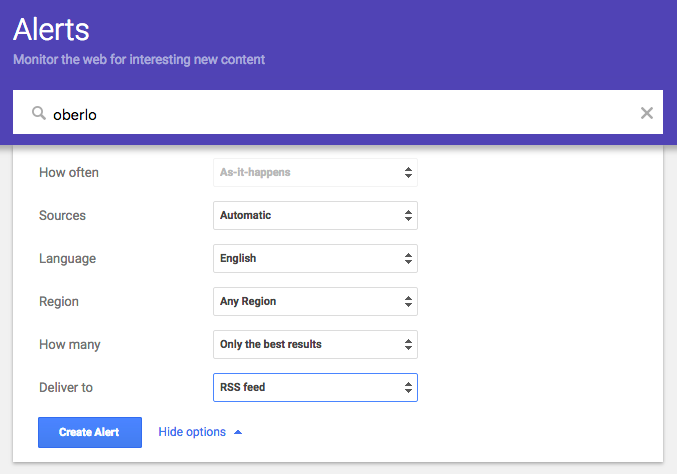 Google will then send you regular emails summarizing content whenever that keyword is mentioned.
Talkwalker
Talkwalker is a social media analytics and brand monitoring platform. The platform has a free analytics tool called Talkwalker alerts, which is a slightly more robust version of Google Alerts. More specifically, it lets you customize your alerts a little further and by filtering the results and dynamically change rules.
Talkwalker will then feed you all the results based on how often you wanna get them, with a breakdown of language and result type as specified.
Social media platforms
Not to be undervalued, social media platforms themselves actually have a lot of native features that can help you track your brand's presence. On Twitter, Facebook, Instagram, LinkedIn and others have native search features to help you follow mentions of specific keywords/hashtags.
With Twitter Advanced Search, you can narrow it down based on location, types of accounts, and more, or exclude certain keywords: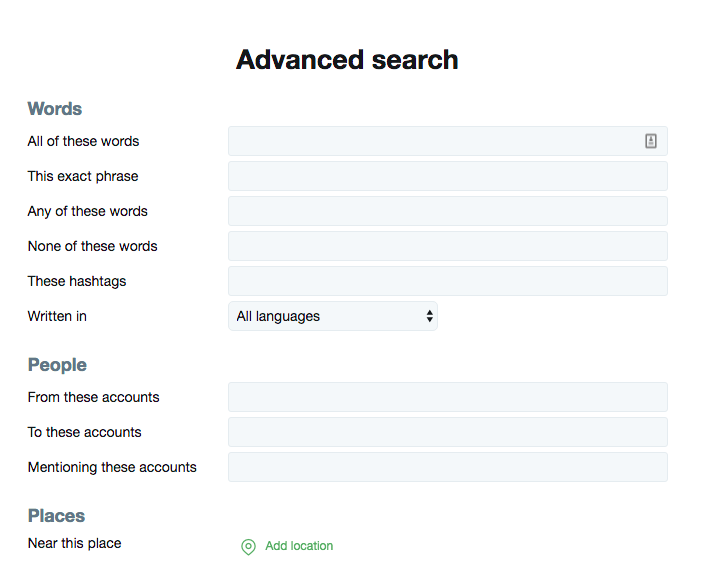 Twitter Analytics also tracks mentions for individual profiles.
With Facebook Page Insights, you get a leg up on competitor analysis. You can use it to see how other pages are performing compared to yours, and which of their posts have the most engagement.
Buzzsumo
Buzzsumo is a great tool for keeping track of blog content. Just type in a keyword and it will return relevant blog results related to it. It's helpful because it includes social sharing metrics, so you can pay close attention to mentions that are gaining traction on Facebook, Twitter, etc.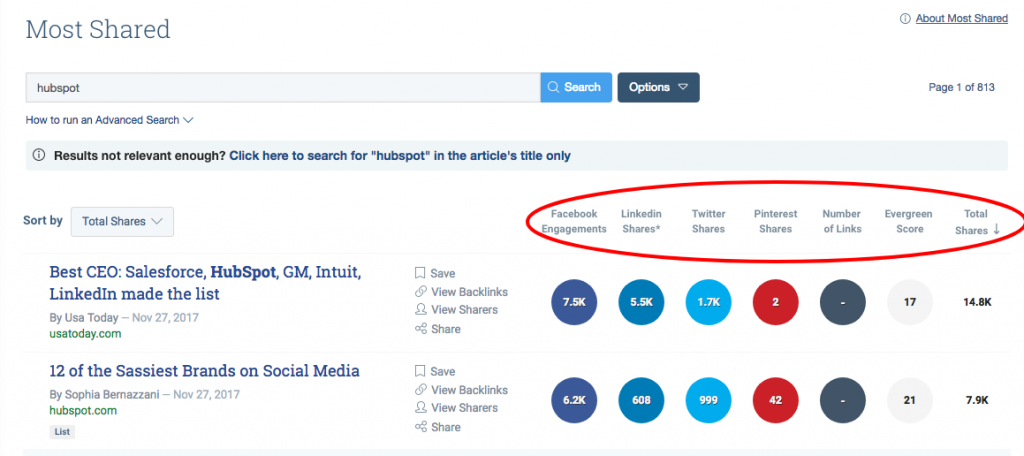 You can search a limited number of daily keywords on Buzzsumo for free, but if you want to set up monitoring to track your brand mentions and competitor content, you'll need to opt for their premium service.
Social Mention
Social Mention is a real-time social media search and analysis tool that aggregates blogs, microblogs, images, videos and more from social networks and various search engines. While there are a lot of tools out there that can do this, Social Mention offers some unique insights, such as sentiment (The ratio of positive to negative mentions):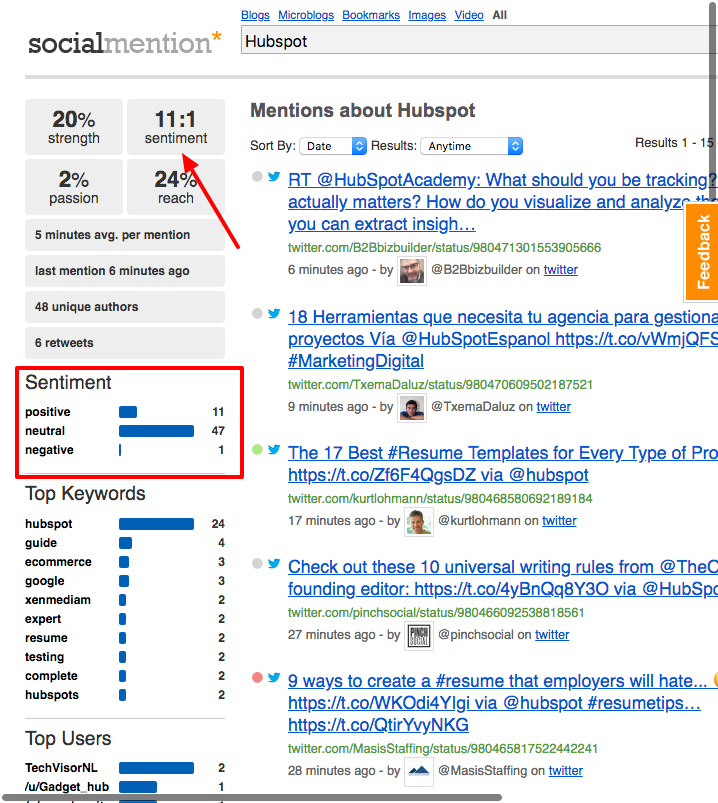 It also breaks down mentions by keywords, top users, and more which can help you identify powerful content, potential influencers, etc.
SparkCentral
Sparkcentral is actually a customer service tool. It monitors customer service inquiries your brand received on different social channels and uses automation features to route these messages to customer service representatives.
Brands can use SparkCentral or a tool like it to respond quickly and efficiently to complaints/inquiries on social media. Automating this process also provides a better experience for customers by allowing them to resolve their inquiries on their social media platform of choice.
Brandwatch
Brandwatch is a tool that helps you uncover consumer insights by tracking brand mentions on social media and around the web. It's valuable for big businesses that don't have the time or resources to sort through and analyze brand data themselves.
Brandwatch offers trending topics analysis, audience demographics breakdown, and illustrates share of voice for you, so you can focus on insights instead of sifting through data. The platform also helps you create intelligent alerts that notify you of PR issues, marketing opportunities and emerging market trends:
SEMRush
When it comes to competitor analysis, no tool can beat SEMRush. It can help you discover new competitors, as well as provide insights about their keyword targeting, advertising strategies, backlink strategies, and more. You can also compare domains side by side to see common and unique keywords.
SEMRush comes with a host of other tools to help you optimize your SEO strategy and discover new opportunities from brand monitoring. It's a great tool to help you uncover keywords, competitors and more that you didn't realize would be valuable to track in the first place. Plans start at $99.95/month.
Sentione
Sentione is an artificial intelligence platform that takes sentiment tracking and brand monitoring to the next level. The solution lets businesses keep track of what customers, competitors, and the general public are saying about their brands across social media and the entire web.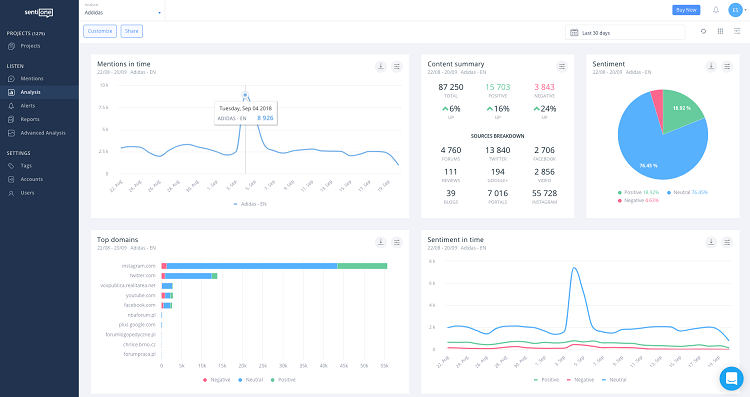 Such data-driven analysis gives businesses actionable insights necessary in making informed decisions and in better engaging audiences. Pricing starts at $59/month for a basic account.
Mention
Mention is one of the biggest media monitoring tools out there. It has very advanced functionalities such as real-time monitoring, influencer analytics tools, and in-depth competitor analysis. While Mention is not free, it fits companies or individuals that require a more robust tool to keep tabs on any brand mention in every online channel or medium.
Mention is also create for organization or agencies that have multiple brands, especially if these entities have many different competitors. Pricing starts at $29/month for a basic account, and increase due to variables such as amount of accounts, alerts and more.
6 types of keywords to track
Of course, the tools you use to track brand mentions are only as helpful as the keywords you provide them. Comprehensive brand monitoring involves tracking a lot more than just your business name. Here are 6 different kinds of keywords you can track:
Brand keywords
The first and simplest keyword to track is your brand name. This is usually pretty easy to do unless your business name is something generic or regularly used in other contexts as well. For example, the business name "Sunshine Dental" would bring up results related to dental practices all over the US.
If this is the case, you can either capture all mentions and filter out the ones that aren't relevant to your business, or use keyword modifiers to focus only on mentions of your business, such as "Sunshine Dental Springfield." With this strategy you are bound to miss out on some mentions that don't include one of your keyword modifiers. You have to decide if it's worthwhile to capture and sift through all mentions based on volume.
Be sure to also include common misspellings of your business name to cast a wider net (e.g. "Cisco's Restaurant" and "Sisko's Restaurant"). If your brand has a widely used slogan or tagline, search for those terms as well, in case someone uses them instead of your business name.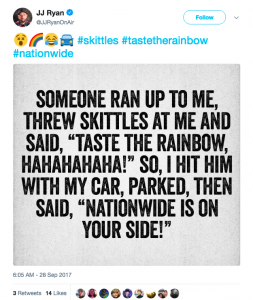 Product keywords
If you work in ecommerce or have specific popular products that you want to pay attention to, you can also track product-related keywords. People might use the hashtags #iphone or #iphoneX on social media when talking about Apple products, for example.
The same goes for software products. Snapchat recently released an unpopular update that people discussed extensively on social media using #snapchatupdate and other related hashtags.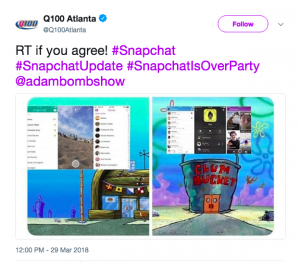 Whenever you launch a new product or make major changes to an existing one, pay attention to new hashtags that might come up when people mention your brand online.
People keywords
It's also important to track keywords related to individuals who are publicly associated with your business. For a small business this could be the owner's name and handles on their personal social profiles. For a big business you'll want to track the CEO, COO, and any other individuals who put a face to your business' name.
Campaign keywords
If your business is practiced in digital marketing, you've likely developed some of your own hashtags to go along with your branded campaigns on social media and elsewhere. Coca Cola's #ShareaCoke or Purina's #PetsatWork hashtags are good examples of this: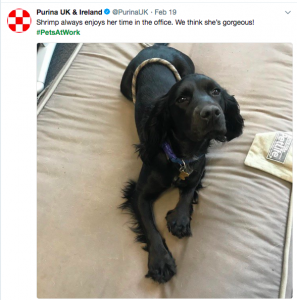 Whenever you do create and spread the word about a new branded hashtag, be sure to add it as a keyword in your tracking software so you can monitor impact and sentiment.
Industry keywords
Paying attention to industry related keywords is just good practice for market research. Monitor what news outlets, bloggers, people on social media and online forums are saying about the state of your industry to measure sentiment and confidence.
Say your industry is artificial intelligence. You'd want to follow popular keywords and hashtags (e.g. #AI, #machinelearning) as well as hashtags related to industry events.
Following industry keywords can also help you brainstorm marketing campaign ideas, or help you identify potential influencers to work with who are already talking about your industry. It can also help you find great pieces of industry content to share on social media.
Competitor keywords
If competitor analysis is a big part of your business planning and strategy, then monitoring competitor keywords is a must. Like with your own keyword research, you can follow:
Brand mentions (including misspellings, abbreviations, etc.)

Product related keywords

Campaign related keywords
Keeping up with competitor campaigns and monitoring related keywords can help you identify which strategies are or aren't resonating with their audience.
Depending on the tool you use, you can also compare your metrics to theirs to measure share of voice.
Brand monitoring on social media and the web
Once you have keyword tracking set up with your favorite monitoring tools, you're ready for the mentions to start rolling in. Turn this data into actionable insights that you can use to improve brand reputation and optimize your marketing message.
Whether it be damage control or marketing insights, here are some things to look out for and/or address:
Damage control
Negative media coverage
If news outlets or bloggers are publishing negative content about your brand, you need to act fast to remove these search results from Google. This could be something negative about your customer service or about your business practices, etc.
Here's an example of an article recently published on Splinter criticizing Elon Musk's efforts to keep Tesla workers from unionizing: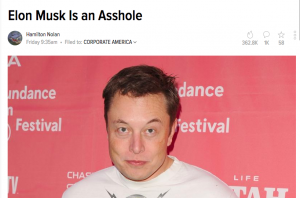 Negative media coverage can quickly go viral if positioned the right way — like the famous YouTube video of a United Airlines passenger getting dragged off the airplane.
When your business really has made a mistake like that, the best thing to do is apologize to whoever was involved to keep the story from blowing up. When bad press can't be handled like that, but you can create your own PR efforts to illustrate your point of view to combat negative opinion.
Negative reviews
Monitoring and trying to mitigate negative reviews across the web is one of the most important things a brand can do for reputation management. Not only do reviews impact people's' decision to buy from you, it can also impact your visibility on Google.
Google reviews appear right alongside your business listing in search: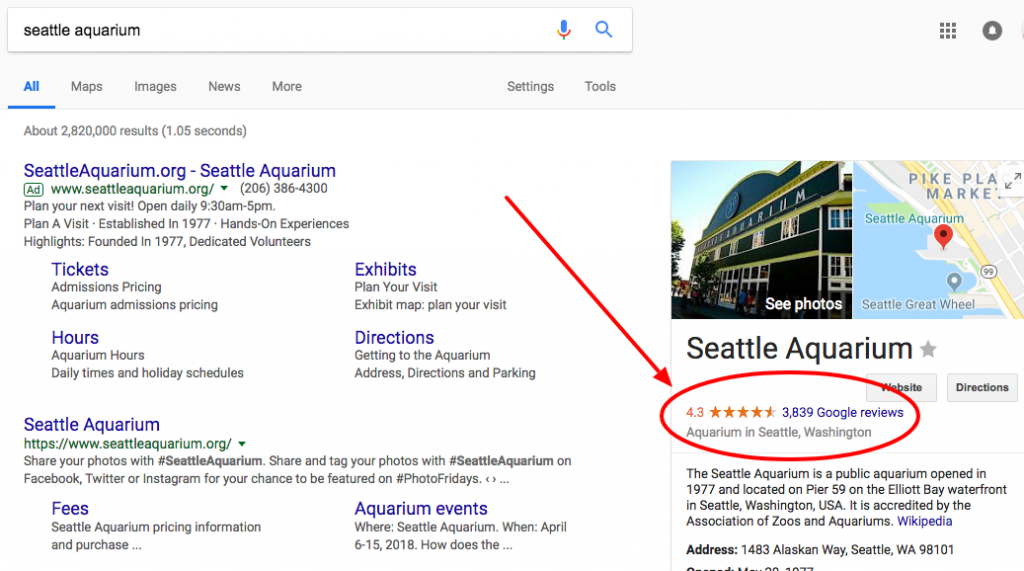 And actually impacts your rank in the local search pack.
If you use product listing ads (PLAs) in AdWords, Google also aggregates reviews of your products from around the web (not just Google reviews) to display along with it. A lot of mediocre or bad reviews can have a huge negative impact on your click through rate.
So, start by signing up with Google My Business so you can claim and manage your Google reviews. Then move on to monitoring other review sites around the web that have a listing for your business, such as Yelp, TripAdvisor, G2Crowd, Facebook reviews, etc.
Even if you aren't able to resolve an issue and get a customer to take the negative review down, it's still good practice to respond to each and every review. This demonstrates to readers and other potential reviewers that you're available and willing to discuss issues with your customers. That might encourage them to reach out to you directly through customer services channels instead of writing a negative review themselves.
If you find a bad review and you can't resolve it with the person who wrote it, there are other courses of action you can take to minimize damage:
Contact the site owner and ask if they'll take the review down

Ask Google to de-index the page if it's against Google's quality guidelines (Spammy defamatory content, etc.)

If the review is untruthful and against the law, contact the appropriate government authorities for help
A review could be illegal if it reports false information with the goal of damaging your business' reputation.
Hate sites/groups
You might not think your business could become unpopular enough to warrant hate sites/groups. But it actually only takes one very unhappy customer to buy a domain and set up a site blasting everything they don't like about you. What's worse, if they buy a domain that includes your business name, it could end up ranking in search results right along with your website.
Creating hate groups on Facebook or another platform is also extremely easy: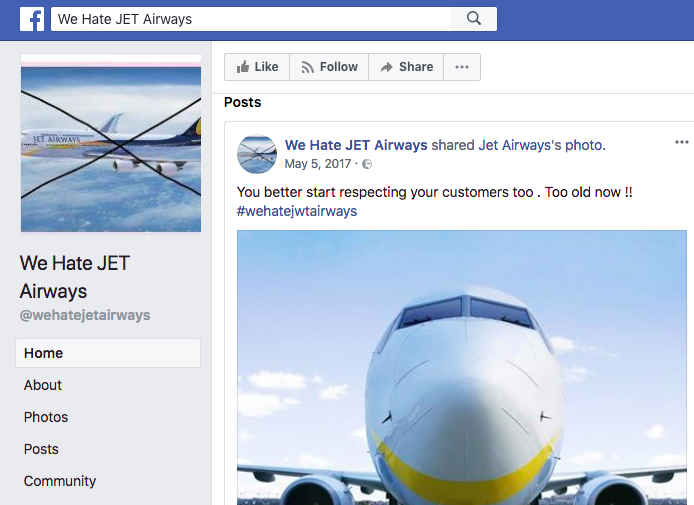 Your keyword tracking tool should capture these. When you come across a new hate site or group, prioritize getting them down over all other reputation management tasks.
Complaints/concerns
It's good to have a social media presence on different platforms, but only if you're actually available and responsive to complaints/concerns your customers post there. The last thing you want to show your audience is an inactive profile full of unanswered complaints.
Social media is a place to provide customer service. According to Social Media Today, nearly 70% of consumers have used social media for customer service issues in the past.
Whenever possible, try to move your conversations with disgruntled customers out of the public sphere. Address their concerns on the platform, then ask them to contact you by private message to resolve it. That way you can avoid a public argument if you can't resolve the complaint to their satisfaction.
Insights and opportunities
Opportunities to collaborate
You should think of every positive mention of your brand around the web as an opportunity to collaborate. Say another big industry player publishes a how-to blog post that mentions using your product. If they already like your business and what it has to offer, you can reach out to them to collaborate on something like a research report or podcast. This mutually beneficial relationship helps you market to each others' audiences and get more reach across the web.
Regular people who talk online about liking or using your products can also become influencers. They might not have a huge audience on their blog or social profiles, but build up a team of brand advocates and you can get more reach overall. Research from HelloSociety shows that micro-influencers actually have 60% higher engagement than celebrity influencers with a huge following.
Opinions about your marketing message
Sometimes efforts to develop a creative marketing message backfire spectacularly, and brands need to be ready to start damage control when they need it.
Dove, for example, created more than one ad last year that people on social media thought were racist: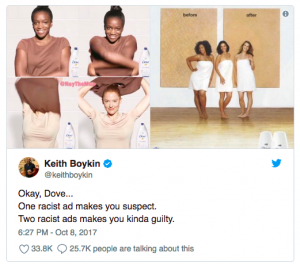 They may not have been able to learn from their mistake with the first ad, but at least they were able to do quick damage control by monitoring campaign sentiment.
Whenever launching a new marketing campaign, pay close attention to how people on social media and around the web react to it. Even the best brands make marketing mistakes, and you want to make sure you minimize damage if and when it happens.
At the same time, a truly genius marketing campaign can go viral, helping even the smallest businesses get global reach. This is an opportunity to amplify/improve on your marketing material to benefit even more.
Positive reviews/mentions
While you do everything you can to minimize the impact of negative reviews, you should also look for ways to amplify the positive ones. With permission, a well-written review from a happy customer can easily be turned into a testimonial on your website. This provides social proof and can help drive conversions.
Truly engaging or impressive experiences with your brand/product are also great fodder for marketing material, such as a case study or video ad featuring the customer and their experiences. Whenever you find a great positive review, think beyond your star rating and come up with unique ways to incorporate the story into your marketing message.
Other constructive feedback
Social media and the web are full of positive, negative and neutral sentiment surrounding brands and their products. Look for trends in how people talk about your business and what it has to offer. This constructive feedback can help you create better products, provide better customer service, improve your brand image, and more.
A good example of an opportunity like this is the negative sentiment around the web about Millennials purchasing iPhones: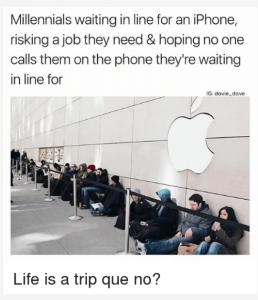 This negative sentiment is an opportunity for Apple to make changes to help their products seem like less of a luxury item. For example, a lot of Millenials truly can't live without their iphones because they use them for work or other important daily tasks. Apple could develop a new marketing message to reflect this.
Competitor opportunities
Monitor your competitor's brand mentions to discover unique opportunities to attract customers and build a better brand message.
For example, keep track of competitor negative reviews and negative brand mentions so you can reach out to their unhappy customers. Offer them an alternative — your product/service.
Keeping track of sentiment surrounding their marketing campaigns can also help you ensure your message is sufficiently unique. When they make a PR mistake, you can also learn from their lessons.
Wrapping up
Brand monitoring is a lot of work, but it's worth the effort if you collect comprehensive data and use it to inform all sorts of digital marketing efforts. Most business owners understand that brand monitoring is a necessity, but fail to make a full investment in the strategy.
Brand monitoring and reputation management aren't things you can do in your spare time. They require constant attention — and even if you use helpful tools to track everything, you still have to analyze it and take action. If budget allows, the best thing you can do is enlist the help of professionals to ensure there are no gaps in your monitoring efforts, and help derive actionable insights from your analysis.